Nikita Redkar ("Aparna")
Nikita Redkar is a stand up comedian, writer, actress, and improviser because sleep is totally a thing of the past. Her comedy is observational yet absurd so hopefully you've had enough sleep. She's performed in comedy festivals around the country such as Out Of Bounds and LA Funny Women's Festival. In Austin, she performs standup around town; improvises as a part of Austin's only Asian-American troupe, Y'all We Asian; and co-hosts the regularly sold-out comedy dating show, Naughty Bits.
Twitter: @TheRedkarReport
Instagram: @nikitared
FB: @itsnikeets
Chelsea Lane ("Quinn")
Growing up the daughter of a Grammy nominated Gospel singer Chelsea always knew singing and acting was what she wanted to do. She spends her weekends 'crashing' weddings with her cover band Blind Date as the lead female singer of Austin's top event band. When she's not spending her time at auditions, classes, and on stage Chelsea Lane loves spending the rest of her time with her amazing husband and puppies.
Instagram: @thechelsealane
Jason Gallaher ("Rob")
Jason Gallaher is a children's book writer and actor who describes his style in both worlds as flamboyant, wacky and slightly dark. When not writing his next manuscript or wearing a Hawaiian shirt on gym film locations, Jason zips about Austin, Texas. He loves dinosaurs, unicorns, merpeople, and Anjelica Huston. His debut picture book, WHOBERT WHOVER, OWL DETECTIVE, is out now from Margaret K. McElderry Books/Simon & Schuster. Gym Buddies is his first time on a web series.
Find Jason on Twitter and Instagram @DraftingJason, or dressed as a merman on YouTube.
Blaire Clause ("Instagram Trainer Blaire")
Blaire Clause is an Austin-based actor who graduated from the University of Texas with a degree in psychology. Her background is in performing theatre arts, which she began in her childhood, and it fueled her passion for TV/Film - both in front and behind the camera - through various roles in short films, TV shows and commercials. She has been a fitness instructor for nearly 9 years and a Nike trainer for 5 so she was especially enthused to see a script - "Gym Buddies" - that combined both of her worlds. She recently performed at the Hyde Park Theatre in the 2016 Frontera Fest and is featured in Richard Linklater's film, "Everybody Wants Some." She is currently co-starring in the comedic web series, "Paul and Pauline", which follows the platonic relationship between an older man (Woodstock generation) and a younger woman (Millennial). Motto: We're humankind....so be both.
Topher Lum ("Gym Bro Topher")
Topher Lum was born and raised in Southern California. At the age of thirteen, he began writing and acting in parody videos with his older brother. After a long hiatus, Topher found a renewed interest in performing through the Austin, Texas improv scene. He has since moved back to Los Angeles to pursue acting full time.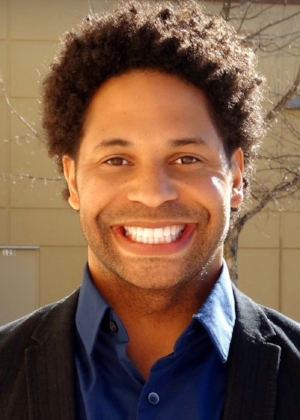 Dean Baldwin ("Personal Trainer Jamal")
A skilled athlete with extensive experience as a personal trainer in South Beach, Florida, California and Michigan, Dean is looking forward to using his knowledge and experience to help Central Texans meet their goals at Austin F.I.T. Originally from Michigan, Dean played high school, college and semi-professional football. A graduate of the University of Central Michigan with a degree in Exercise Science, Dean has been a personal trainer for nine years. He has also worked for several years as a motion picture stuntman. Dean can be seen in Friday Night Lights, Gridiron Gang, The Comebacks and various television commercials.
Find Dean on Facebook at Austin F.I.T. Personal Training and Vikn Sport Equipment Rental. He's also on Twitter @viknsports
"It's never too late to be in the best shape of your life."